|   | Course |
| --- | --- |
| Venue: | UCAM campus (Murcia) and UCAM football facilities |
| Language | English |
| Price | 2.350€ |
| Duration | 4 weeks |
| Teaching hours | 60 hours |
| Timetable | 09.30-13.30 (with 30 minutes break and lunch after classes), Mondays to Fridays |
| Dates | June, July and September |
Please note that Non-EU students in Spain are not entitled to medical coverage. A private medical insurance is obligatory for the entire length of stay.
Introduction:
The club was formed in 1999 with the aim of achieving good results in the Spanish University Championships as well as with the hope of propagating the values of the University through sports.
Season 2008/09: promotion to Third Division.
2010/11 season: champion of group XIII of Third Division, like Costa Cálida CF.
In 2011, the UCAM C.F. has joined forces with Costa Cálida C.F. Thus, the Catholic University of Murcia officially presented the UCAM Murcia C.F. team, born from the union of both teams.
Season 2013/14: champion of group XIII of Third Division and promotion to 2nd Division B against Real Betis B.
Season 2014/15: playoff of promotion to 2nd. Eliminated by Bilbao Athletic.
In the 2015/16 season the team coached by José María Salmerón, gets the promotion to Second Division A (La Liga123) after a spectacular season.
In the 2016-17 season, the UCAM Murcia fell in the last game against Nàstic de Tarragona, the defeat against the Catalan team by 1-0 caused the return to Segunda B.
Objetives:
Provide quality football training at the service of our players.
Become a national reference with an identity associated with excellence as a form of continuous improvement.
Development and improvement of the individual and collective technical skills.
Expand their knowledge of the game and adapt it to the tactical aspects that it requires.
Train the players in the values represented by the UCAM CF and our university. 
To contribute in the football education, both inside and outside the field, enhancing the spirit of sportsmanship that promotes this institution.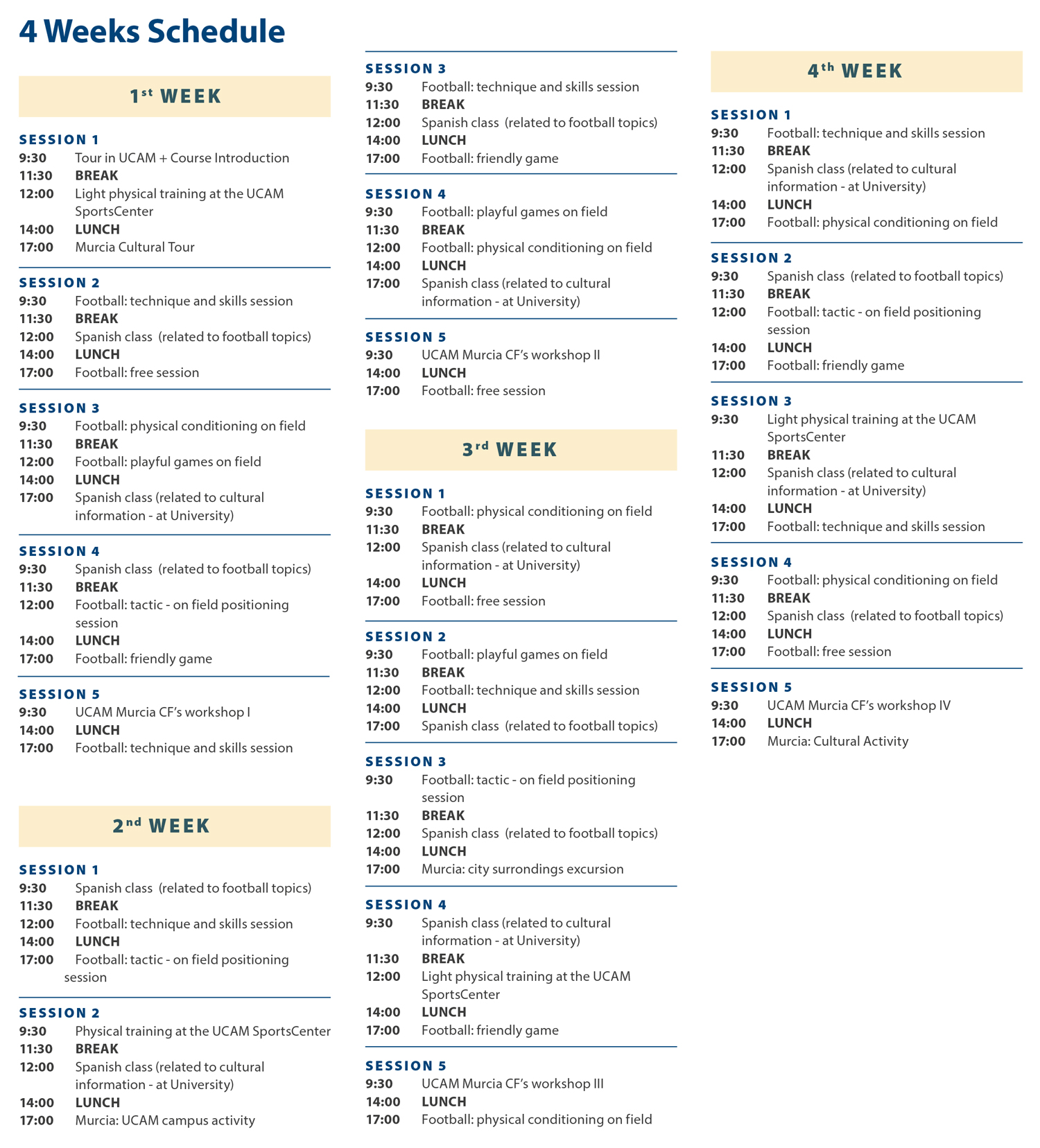 Minimum enrollment
The minimum number of students to offer the UCAM Murcia CF Experience is 15.
UCAM reserves the right to cancel the course when the minimum number of students is not reached.